Burglar alarms: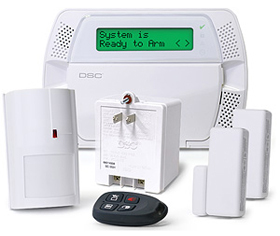 One of the top manufactures in the industry of alarm/intrusion products is DSC and we here at EP Vision Security Systems have been installing their products, because of its durability and how simple it is to use by our clients.
We provide burglar alarm solutions, from wired to wireless systems for both the residential and commercial market, with the intention not just to sell you a system, but to ensure that your family and property is adequately protected and that you get value for your investment.
In today's world where technology can be at everyone's fingertip, our systems have the capability to be access from anywhere in the world via a network connection which gives you the ability to interact and be informed as to what's happening at your property.
We do not believe in locking our clients into long-term contracts, once the equipment and installation cost was paid up front. We offer extremely competitive and affordable alarm monthly monitoring rates to all of our clients.
If you have an existing alarm system, which is not under a contract with another company, or wishes to have an upgrade done. We are more than able to do that for you. (Some conditions may apply)
Here is a list of available devices:
Control panels
Regular & touch screen keypads
Door/window sensors
Glass break detectors
Motion detectors
Smoke detectors
Carbon monoxide detectors
Flood sensors
Cellular alarm communicators
Key fobs
Sirens/strobe lights
We provide 24/7 alarm monitoring services, with response service from the Police, security guard companies, fire and ambulance.
Our alarm monitoring services is provided by a fully computerized 24/7 state-of-the art monitoring station that is ULC listed.